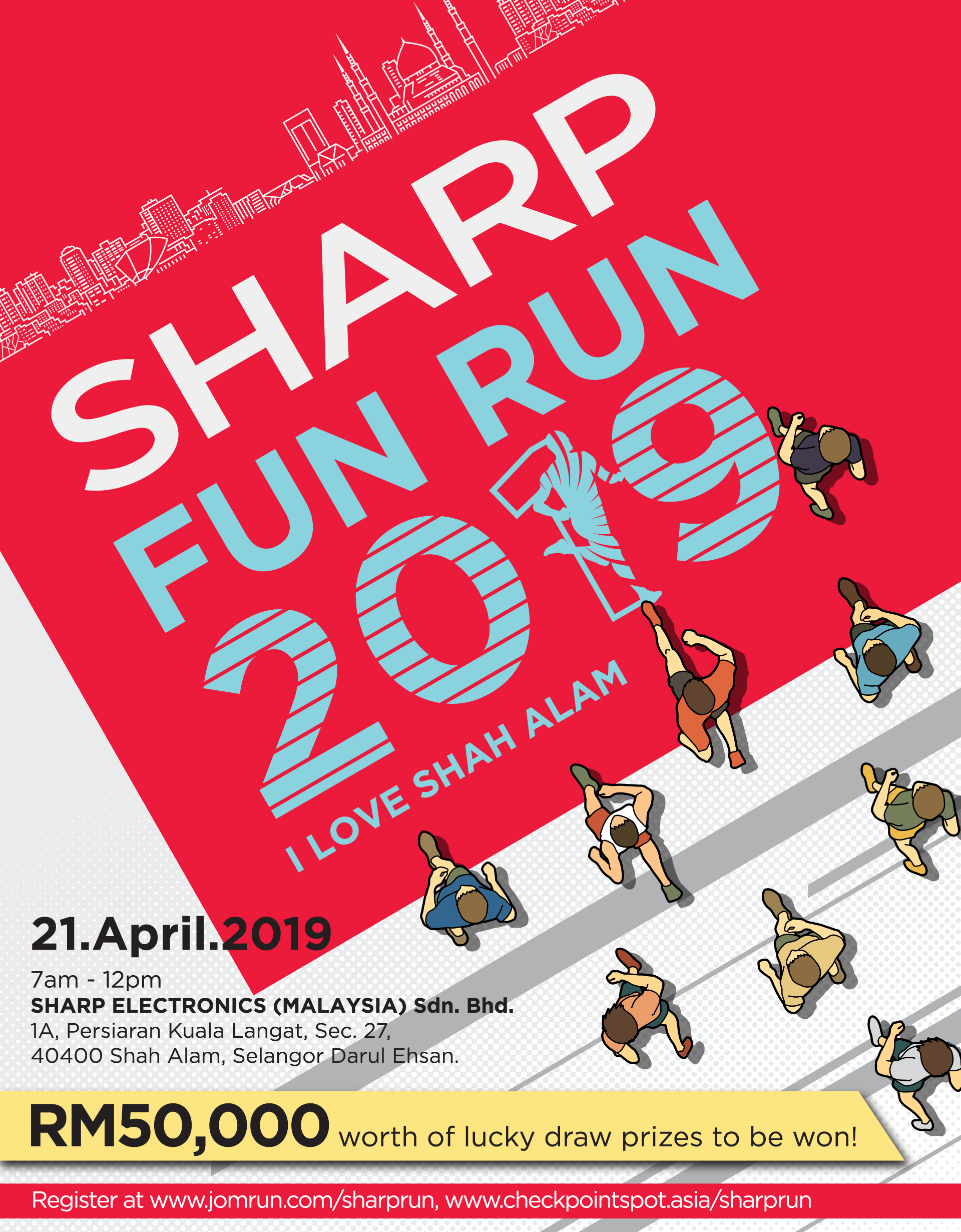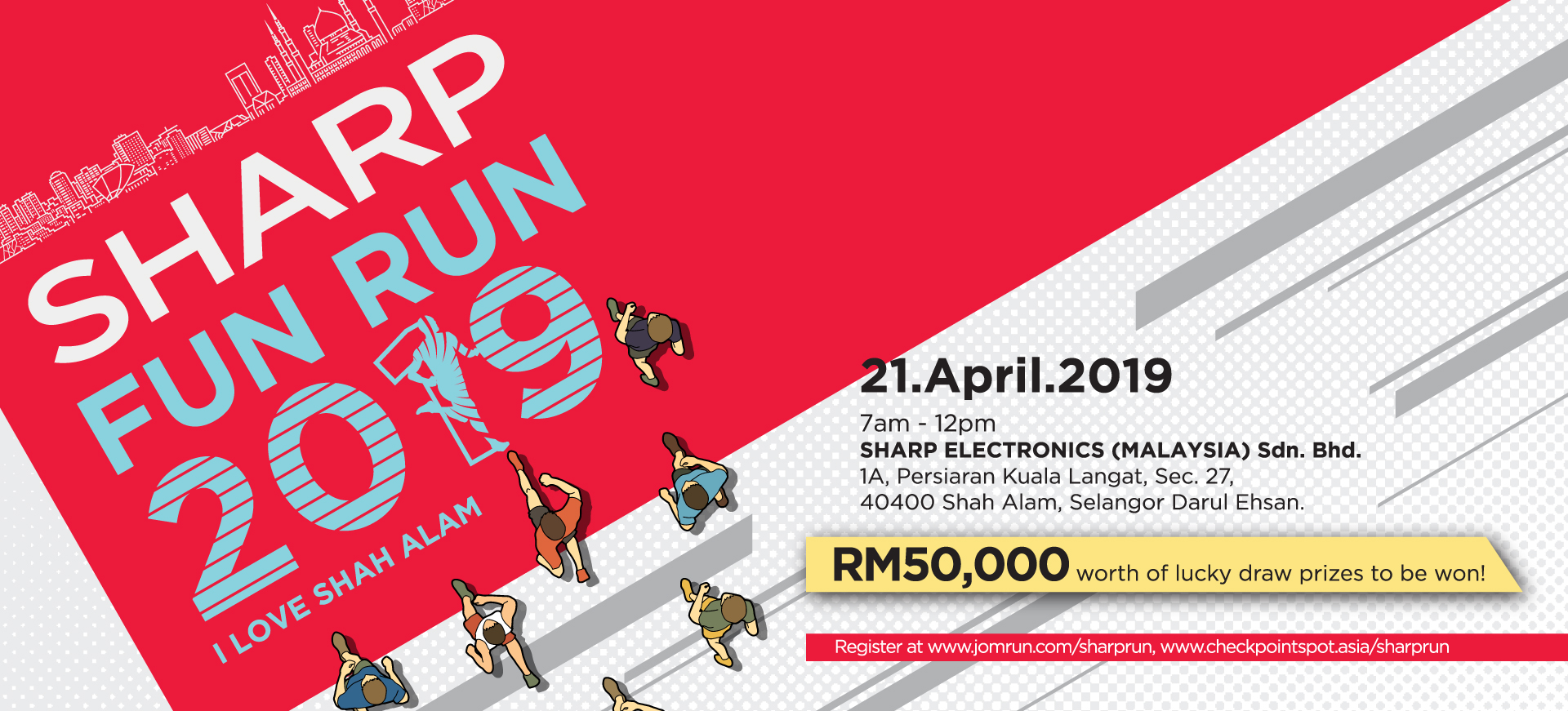 Objective
The objective of the run aimed to foster a close knit industrial neighbourhood as well as to unite the community. Aside from running, there will be carnival and other activities at Sharp Shah Alam.
The Programme
| | |
| --- | --- |
| 6:00 am | Participants Arrival |
| 7:00 am | Welcome Speeches |
| 7:15 am | Warm Up Session |
| 7:30 am | Flag Off 6.5km |
| 7:40 am | Flag Off 3km |
| 9:00 am | Finish |
| 9:05 am | Cool Down |
| 9:30 am | Lucky Draw |
| 10:00 am | Thank You Speech |
Participant Entitlement
Event Tee
Finisher Medal
Running Bib
Group Insurance
Drawstring Goodie Bag
Light Refreshment Provided:
*Banana, Nasi Lemak, Water and Isotonic Drink (not applicable for VR)
**T-Shirt & Medal is only for Adults and Kids 13 Years Old Above Only.
Route
Race Kit Collection
Date: 19th & 20th April 2019, Friday & Saturday
Time: 10:00 am to 5:00 pm
Venue: SHARP Electronics Malaysia, Shah Alam.
Lucky Draw
RM50,000 WORTH OF LUCKY DRAW TO BE WON!
Grand Prize | 70" TV Aquos 4T-C70AH1X worth RM7,999.00
1st Runner Up | 720L Mega Freezer SJ88MFGM worth RM4,949.00
2nd Runner Up | HEALSIO AX 1600VMR Steam Oven worth RM4,299.00
And MORE Lucky Draw Prizes…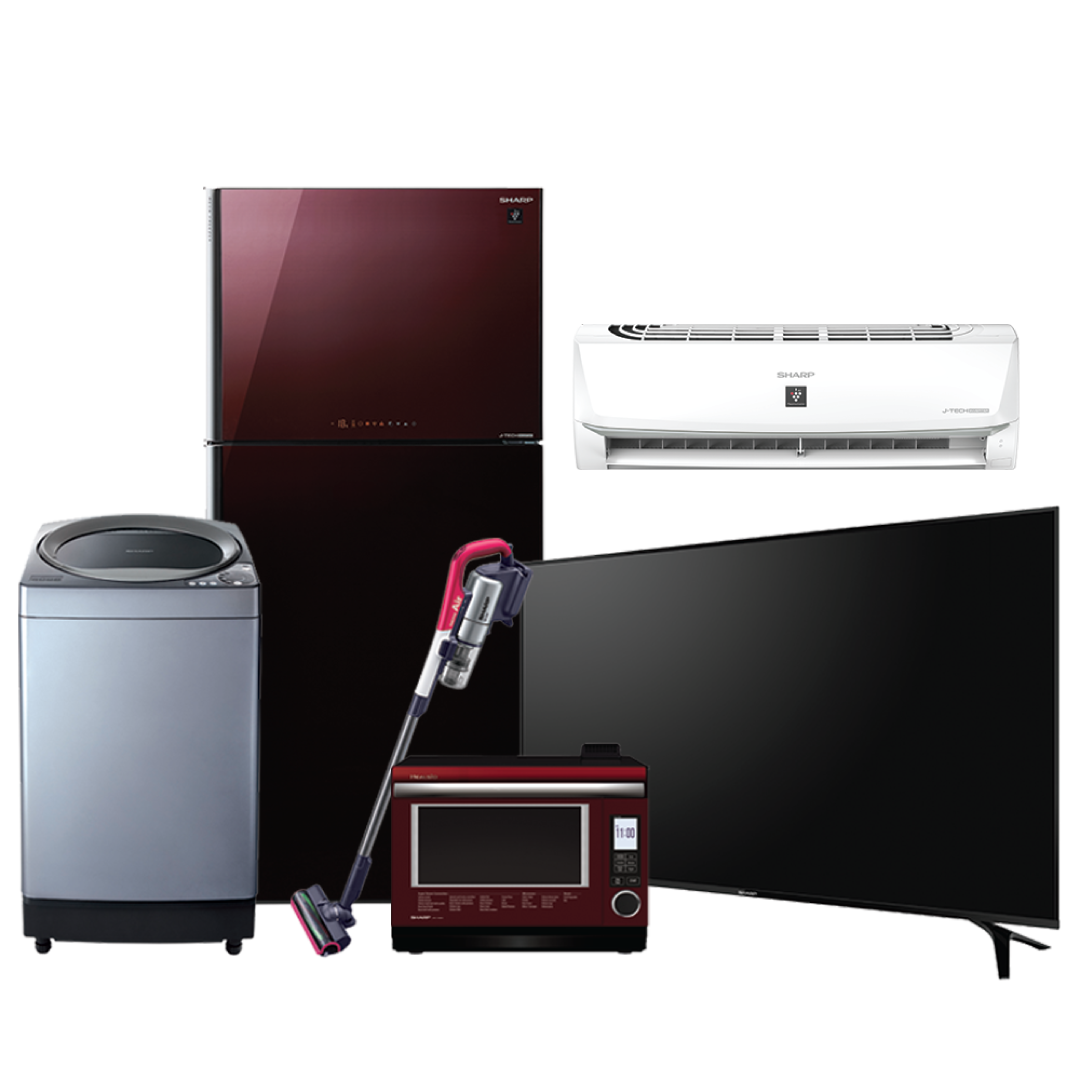 For your convenience, we've arranged a free shuttle bus service between One City car park and SHARP. It will operate between 5.30am-6.50am.

🚗 Just park at One City car park (RM2.00 flat rate, please pay with your Touch 'n Go or MyCard). Don't forget to validate your card at the validation counter by showing your running bib!

🚎 Our shuttle bus service will be travelling between the two venues for pick-ups and drop-offs.

One City's Address:
Jalan USJ25/1B, One City, 47650 Subang Jaya, Selangor.
For Enquiries
Event Venue, Run Entry Pack Collection(REPC) and General Inquiry
codeent@gmail.com

Technical Team
hello.pureevents@gmail.com
Rules and Regulations
General
The Sharp - I love Shah Alam ("SILSA") 2019 is owned and organized by Sharp Electronics Malaysia Sdn. Bhd. (referred to herein as the "SEM"). SEM in accordance with these Rules and Regulations (the "R&R") and all the Terms and Conditions (the "T&C") applicable to the Participants, can be found at www.checkpointspot.asia/sharprun and www.jomrun.com/sharprun (the "Registration Portal and Apps").
By continuing to use SEM's services, accessing any part of the portal, and registering for the "SILSA", submitting information to SEM (and/or its related entities) whether for the purpose of registering for the "SILSA" or otherwise, as well as using any features of the aforementioned portal, you signify that you have read, understood and agree to be bound by the R&R. Further, you hereby expressly agree and consent to SEM (including its related entities), collection, use and disclosure of your personal information. In connection with the purposes aforementioned, the company is hereby permitted to disclose such personal data to the relevant authorities, the company's successor in interest, sponsors, advertisers, solicitors, insurers, adjusters, other advisers, suppliers, contractors and/or service providers, and the company's parent company, group of companies, related and associated companies, affiliates and partners, some of whom may be outside Malaysia, who may undertake administrative, management and operational functions for or on behalf of the company in respect of or arising from the commercial transaction or to support sales, marketing, promotion and/or advertising efforts.
Completion of the registration form confirms the Participant's agreement to abide by these R&R.
Registration for the "SILSA" is only confirmed upon payment and issuance of the "SILSA" running identification number.
The Participant agrees to: (i) provide true, accurate, current and complete information about the Participant contained in the registration form (the "Personal Information") and (ii) maintain and promptly update the Personal Information to keep it true, accurate, current and complete. SEM may contact the Participant from time to time by email. Any notice sent to the email address registered with SEM shall be deemed as received by the Participant.
If the Participant provides any information that is untrue, inaccurate, not current or incomplete, or if SEM has grounds to suspect that such information is untrue, inaccurate, not current or incomplete, SEM may suspend or terminate the Participant's registration and refuse any and all future use of the portal (or any parts thereof).
SEM reserves the right to modify or substitute any of these R&Rs and/or T&Cs from time to time as they deem fit. If there is ambiguity in any of these provisions, SEM shall be the authority to interpret and in so doing, SEM will take into account the interests of all the affected Participants. Any amendments to these R&Rs and/or T&Cs will be updated on the portal.
SEM reserve the right to cancel the "SILSA" 2019 at any time without prior notice to the Participant, in which case they will make reasonable effort to inform the Participant prior to the date of the event. If the "SILSA" 2019 is cancelled, there shall be no refund of fees paid. SEM, Co-Organisers, Event Sponsors or Co-Sponsors shall not be liable for any other loss or inconvenience caused.
SEM reserves the right to amend the "SILSA" 2019 running routes as they deem fit for the safety of the Participant and/or to prevent any potential hazards in the running of the event, at any time without prior notice to the Participant. In such cases, every effort will be made to inform the Participant prior to the day / date of the event. SEM, Co-Organisers, Event Sponsors or Co-Sponsors shall not be liable for any other loss or inconvenience caused.
Safety
Whilst reasonable precaution will be taken by SEM to ensure the Participants' safety, the Participant takes part in "SILSA" 2019 at his or her own risk. SEM, Co-Organisers, Event Sponsors or Co-Sponsors will not be responsible or held liable for any injury or death howsoever arising from training for or during participation in "SILSA" 2019. The Participant is strongly encouraged to consult his or her medical practitioner prior to registration and before the actual running day.
A Participant must retire from the race immediately if required to do so by any member of the official medical staff, race director, referee and/or security officer.
Race
Participants must attach the assigned bib on the front of their running attire. Participants not wearing a bib will be taken off the race route by security officers or route marshals.
SEM reserves the right to use any photographs, motion pictures, recordings, or any other media records (including those displaying the Participant) of the "SILSA" 2019, for any legitimate purpose, including commercial advertising.
SEM reserves the right to limit and/or refuse race entries without assigning any reason.
Cancellation
After registration, there will be no fee refund for a Participant who does not eventually take part in the "SILSA" 2019, for any reason whatsoever.
A Participant is strictly not allowed to transfer his or her race entry to another party or change race categories after his or her registration is confirmed.
Any Participant who commences before the actual start time of the race category for which he or she is registered will be disqualified. The start time for the respective race categories can be found on the portal.
A Participant who does not start within 30 minutes from his or her respective flag off point will be disqualified and, for safety reasons, may not be allowed to start.
Age Requirements
A Participant must be 15 years and above on the race day to participate in the "SILSA".
Any Participant below the age of 15 is required to seek parental/guardian consent when registering, failing which SEM reserves the right to refuse entry to that Participant.
Personal Belonging
SEM will not be responsible for any loss and/or damage to a Participant's belongings, personal or otherwise.
Run Categories
The run categories for participation are as follows:

Men's Open
Women's Open
Men Junior Veteran
Men Senior Veteran
Women Veteran
Men Junior
Women Junior
Family Participants
Assemble
All Participants must assemble at the designated reporting location (Parking Area, Sharp Electronics Malaysia) at the stipulated time (07:00am). All participants are required to be punctual for the run.
Prizes
This is a fun run without prizes. However, participants are automatically eligible for the Lucky Draw.
Run Entry Pack Collection
All Participants must collect their race entry pack (the "Run Entry Pack") which includes the run bib, T-shirt, and other novelties at the Run Entry Pack Collection location ("REPC") during the collection period ("Collection Period"), of which details will be stated on the portal. If Participants are unable to collect their Run Entry Pack in person, they may empower a duly authorized representative.
The T-shirt sizes are subject to availability and T-shirts in the next best size will be issued to a Participant in the event that the previously chosen size is no longer available.
Late collection will not be entertained and SEM shall not be liable for any other loss or inconvenience caused, due to Participants' inability to collect their Run Entry Pack. For avoidance of doubt, SEM is not obliged to extend the collection period or to ensure that a Participant receives his or her Run Entry Pack. At all times, it is the responsibility of the Participant to collect his or her Run Entry Pack during the Collection Period. Run Entry Packs not collected during the Collection Period will be deemed to be unwanted, and SEM shall be at liberty to dispose or re-distribute them accordingly.
Terms & Conditions Governing "SILSA" 2019
Participants who are eligible for more than one discount will enjoy the single highest discounted rate available upon registration. Offers cannot be combined with other promotional prices or discounts.
All prices indicated are in Malaysia Ringgit (MYR).